What is BoneStation?
Web-Based Reporting and Workflow Software For Central DXA Bone Densitometry.
BoneStation software enables bone densitometry practices to create BMD reports efficiently, flexibly, and effectively by assisting physicians (radiologists, endocrinologists, rheumatologists, and women's health practitioners) in the reviewing and reporting of bone density scans.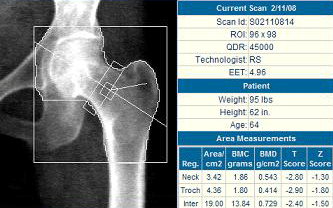 BoneStation's bone density reports comply with ISCD and National Osteoporosis Foundation standards. They contain images and clearly formatted tables of bone mineral density (BMD) change over time. BoneStation also supports FRAX.

Learn More About BoneStation


How Does It Work?
Comprehensive Reporting in Three Steps.
Bone density scans are transmitted from a DXA machine to BoneStation, where they appear in BoneStation's web application. Patient history is captured in an electronic questionnaire.

Physicians log into BoneStation through a web browser. No desktop application is needed since BoneStation is web-based. Physicians then review the scans, and create BMD reports from any internet enabled location. The BoneStation software assists technologists and physicians with workflow.

Distribution of bone density scans is just as easy. BoneStation can distribute bone density reports via printing, faxing, HL7, or a portal.

Read Our Blog Post About the System Workflow
Why Does It Matter?
Efficiency. Effectiveness. Quality.
Use BoneStation to improve the efficiency and/or effectiveness of your bone densitometry practice:
Review bone density scans from anywhere in a browser
View historical scan images with current images
Easily monitor workflow
Integrate with most commonly used densitometers and with HIS, RIS, EMR
Robust data storage
Eliminate manual data entry errors